FEB-MAR 2023, w. Nicolai Boas & Cédric Gorinas
Ready to take your practice to the next level, deepen your yoga studies, and perhaps become a yoga teacher?
So look closer here…
This year we have chosen to change the format for our next training and is going abroad doing all 200 hours in one go. We are going with this idea as we believe there is so much to be experienced, when truly setting aside the time to be in a yoga bubble with likeminded people wanting to take their practice to the next level, and become yoga teacher.
The training will give you the credentials to be able to apply to become certified with Yoga Alliance once you have completed it.
Who can join?
To take part in this training you are expected:
to have been practicing yoga for a least one year on a regular basis
to have a hunger for deepening your understanding of yoga
to be willing to participate in the teaching, including teaching exercises where you will be asked to teach your fellow teacher trainees.
We believe vulnerability and wanting to share is key to becoming a great teacher, we encourage all to share their experiences in the training so we can all learn more and learn to hold space for each other. But you are of course always the one who decides what you wish to share and what you don't.
NB: The TRAINING WELCOMES APPLICANTS FROM ALL OVER THE WORLD – (the intro and graduation are planned in Copenhagen but will be executed via Zoom if needed)
Full Schedule for the Training
Meet and Greet in Copenhagen
Date: Sunday February 12th 9.00-16.00
The training will have an introduction day in Nørrebro, Copenhagen prior to us leaving for Mexico
If you for some reason are unable to join this in person we can set up a Zoom link for you.
Here you will get to meet all the other students as well as get all the materials for the training.
On this day we will practice and get to know each other and do a few workshops that will give you a slight feel of what to expect in Mexico. For this day, please bring your own meals and snacks, as well as your water bottle. (All this information will be sent to you in an email before this date.)
24 Days in Mexico
Sunday, February 26th from 16.00 – Wednesday, March 22nd at 14.00
In Mexico we will cover topics such as, Asanas, Alignment, Anatomy, Philosophy, Personal Development, Sequencing, Meditation, Pranayama, Teaching Techniques and of course daily Practice, as well as do practicum where you will get to practice teaching too.
We see this as an opportunity to dive into your personal practice, as well as deepen your understanding of the science of yoga in this ideal serene setting. (more details on the venue will follow.)
Each day will more or less have the same basic structure. and we will have a weekly day off where you can relax and visit some of the local Mayan sites or kick back by the swimming pool if you like.
Example of a day in Mexico
6.45-7.00
Tea and fruit
7.00-9.00
Morning Practice
9.00-10.00
Breakfast
10.00-11.30
Teaching Technique
11.30-13.00
Yoga Philosophy
13.00-14.00
Lunch
14.00-15.00
Break
15.00-16.30
Anatomy
16.30-18.00
Afternoon Practice
18.00-18.30
Break
18.30-19.30
Dinner
19.30-21.00 (twice a week)
Evening Chanting, meditation, or similar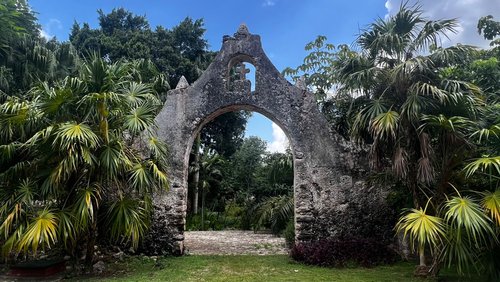 Graduation Weekend in Copenhagen
Friday, April 14th from 17.00 – Sunday, April 16th at 16.00
This weekend is set aside for you to ask us questions about the curriculum as well as get to practice your practical exam with supervision before actually teaching your first shared class on Sunday.
After the exams we will celebrate together.
Shambalanté
About the Retreat Center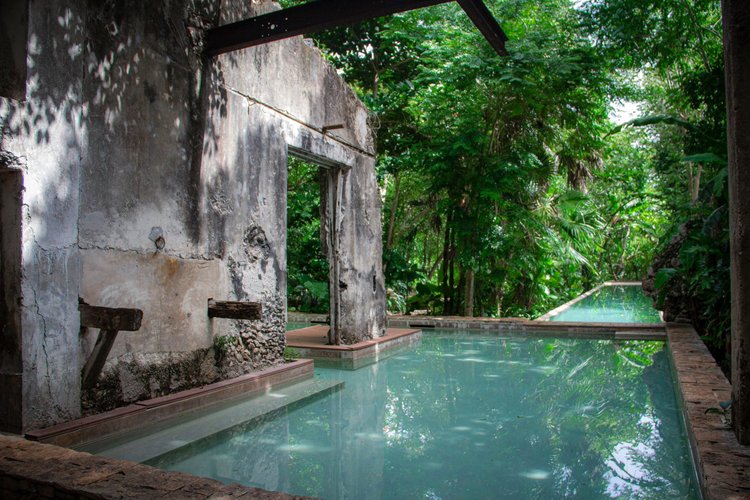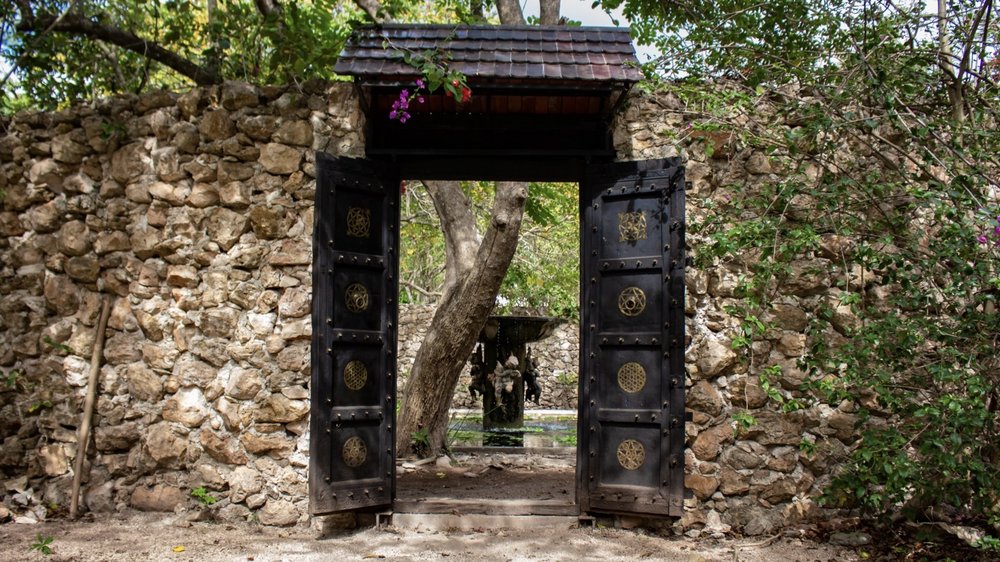 The venue we have chosen this year, is located 3 hours west of Cancún, Mexico, close to the sacred, ancient Mayan sites.
Its a peaceful place with a tropical feel, several pools, large gardens and cozy spots for both socializing and retreating for some alone time. On the days off there are bikes for rental at the location and possible excursions can be planned for an additional fee directly with the venue.

Accommodation
The suggested price of the training includes a "Standard Shared Double Room" (two beds) with a shared bathroom.
Single rooms can be booked at an additional fee of 9.500,-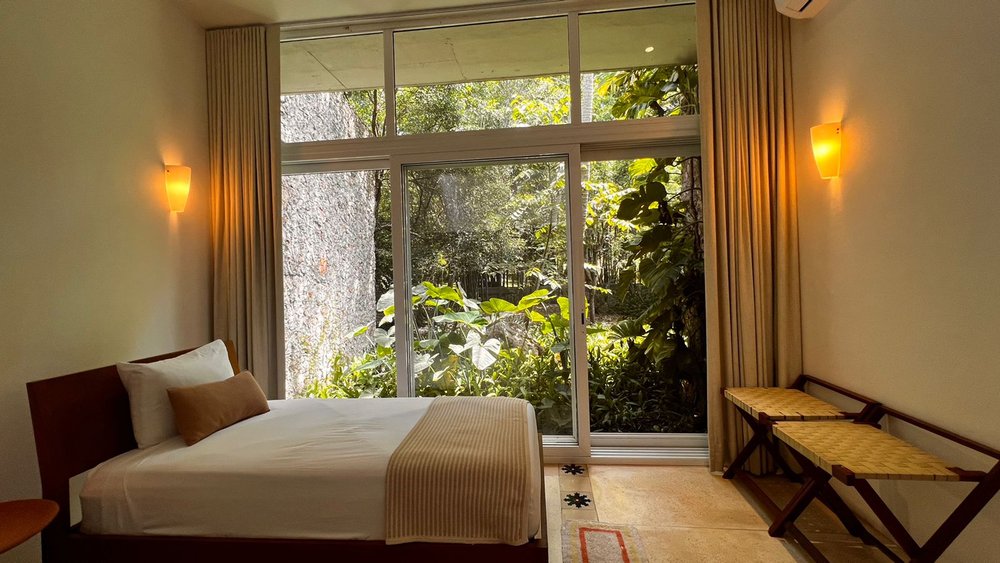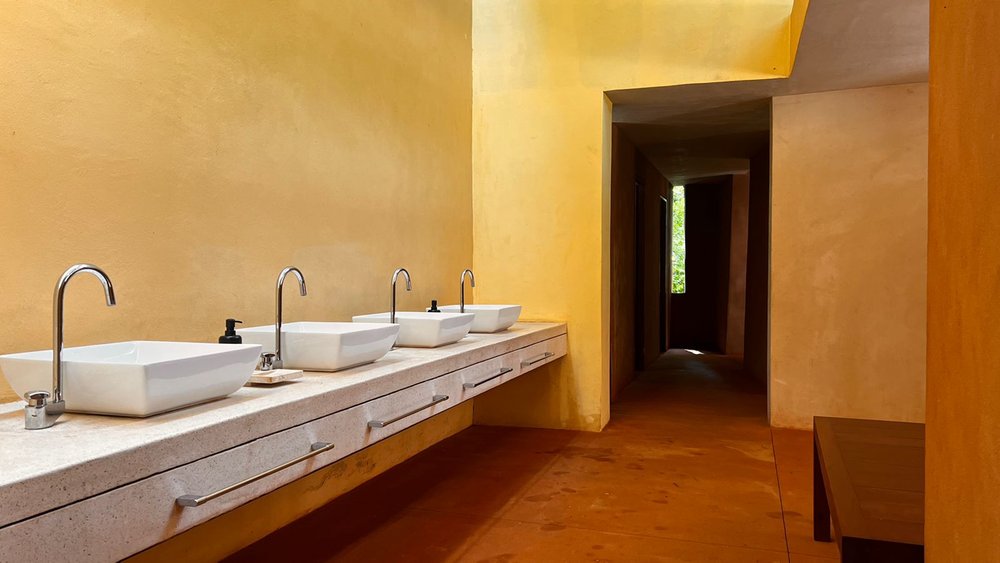 How To Get There

The easiest way to get to the Location of Shambalanté is by flying to Cancún where we will arrange a group pick up at the airport on Sunday morning on the first day of the training.
If you prefer to find you way there yourself, please let us know prior to the arrival date so we know when we can expect you there and maybe help suggest different routs for you.
Location
Shambalanté Retreat Center: a peaceful gem where comfort meets authenticity and the outdoors inspire inner tranquility.
Merida, Yucatan – Mexico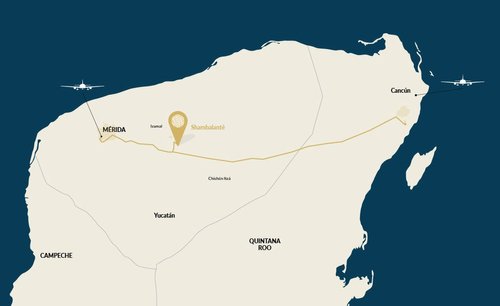 Price
38.400,-
(Early bird price 36.000,- if booked before October 15th)
Full price for training including tuition fee, all materials, 3 daily vegetarian (vegan on demand) meals and a snack + a single bed in shared double room.
Single room can be booked on request for an additional 9.500,- for the entire 24 days.
To book your spot you will pay a non refundable deposit of 5.500,- and the rest of the full price is due by a bank transfer on February 1st 2023 at the latest, or October 15th 2022 if you wish to get the early bird discount.
TO SIGN UP, GO THE YOGA FLAT'S PAGE AND CLICK "REGISTER HERE"
Price does not include airfare yet the training is covered under "rejsegarantifonten"
About the Teachers
Cédric Gorinas
Cédric is a full-time, Copenhagen-based yoga teacher. He has taught alignment-based yoga classes, retreats and trainings over the last ten years and has studied with internationally recognized teachers in yoga techniques, alignment, anatomy, eastern philosophy, meditation, and body-based psychotherapy.
His teaching is informed by his passion for the interconnectedness of body, mind and heart. In Cédric's classes, you can expect to find (or find again) a good and healthy posture, build strength and flexibility in your body as well as increase your body awareness and a sense of empowerment. He strongly believes in the wisdom of the body which knows the path to healing, personal and spiritual growth. Our work is then to align ourselves to this path and reconnect our body, mind and heart together.
(Read more about Cédric on www.heartwiseyoga.com/about.)
Nicolai Boas
Nicolai is a technique junkie whose classes centre around body awareness, anatomy and mindful movement. His classes are build up around the wish for his student to empower themselves in their practice and in their life by employing concepts that highlight the power of an explorative practice and way of living.
His classes will often be relatively physically demanding, weather its advanced or gentle practice, yet his lyrical teaching style makes tough active body work accessible for most.
For Nicolai, through physical practice, we can get better and understanding ourselves as it becomes a tangible tool to better access our reaction patterns and our sense of self. We are able to make our complex experiences and problem areas more accessible simply by looking at the way we approach our physical practice, how we meet ourselves and how we respond to the nerve impulses.
The training will give you the credentials to be able to apply to become certified with Yoga Alliance once you have completed it.
SIGN UP AT THE YOGA FLAT'S PAGE AND CLICK "REGISTER HERE"
(deposit required)